This week I would like to start the blog entry by talking about a few changes that I will be making to the blog in the coming weeks, some of you may have noticed the page links now situated towards the top of the blog highlighted in the picture below.
Recently I have received a few messages from people who follow this blog who also know me from the maggot drowners forum and it was really great to hear from people who read the blog about their impressions of it and also to read about how they are doing on their own angling adventures. It got me thinking though about the people who don't know me from posting on there and may also want to contact me so I have set up a contact me section for people to contact me on about any aspect of the blog and any questions you may have on waters mentioned.
I also thought it would be a good idea for the blog to have a section dedicated to the waters I fish both still water and rivers and it is my aim to provide as much information as I can in giving a description of the waters and some pictures to show what will greet you should you want to visit these waters yourself.
The "contact me" section and "about us" section should both be up and live now and for the next few weeks will be a work in progress and obviously the still water and river sections will take more work so will also be updated as and when I get some free time. Other sections I have in mind but not yet 100% definite are sections on product reviews and possibly a angling news section, I hope you will like the new developments to the blog and find it very useful once its completed.
Any way onto this weeks fishing and the river Dee again was this weeks destination with two short morning trips both on Saturday and Sunday. Saturdays fishing trip was to a small secluded feeder stream of the river Dee in pursuit of the lady of the stream and trout. We arrived again nice and early and was treated to of the sight a pair of bats effortlessly hunting in the twilight, its amazing to see these creatures hunting and I must admit to standing for a good twenty minutes watching them before unloading the gear from the car.
The river was slightly up due to the overnight rain and there was a good flow pushing through which would improve our chances of connecting with the target species. In no time we were in the swim, the darkness was lifting and the birds were in full song signalling the start of another day and there is no better feeling than watching the world around you wake up whilst you are stood in the river trotting.
first fish of the day
I find most of the time when trotting a small stream that the first cast of the day usually brings a decent fish and today was no exception with this greedy trout being the first fish on the bank. Trout and salmon par truly are beautifully marked fish and although not my favourite fish to catch they are definitely along with the grayling the most beautiful on the eye.
As the bait started to go in I connected and landed a nice grayling but it was the trout that were bossing the swim with four or more decent sized trout coming during the session and it seems the more bait you put in the more you can guarantee a trout in your swim on this little stream.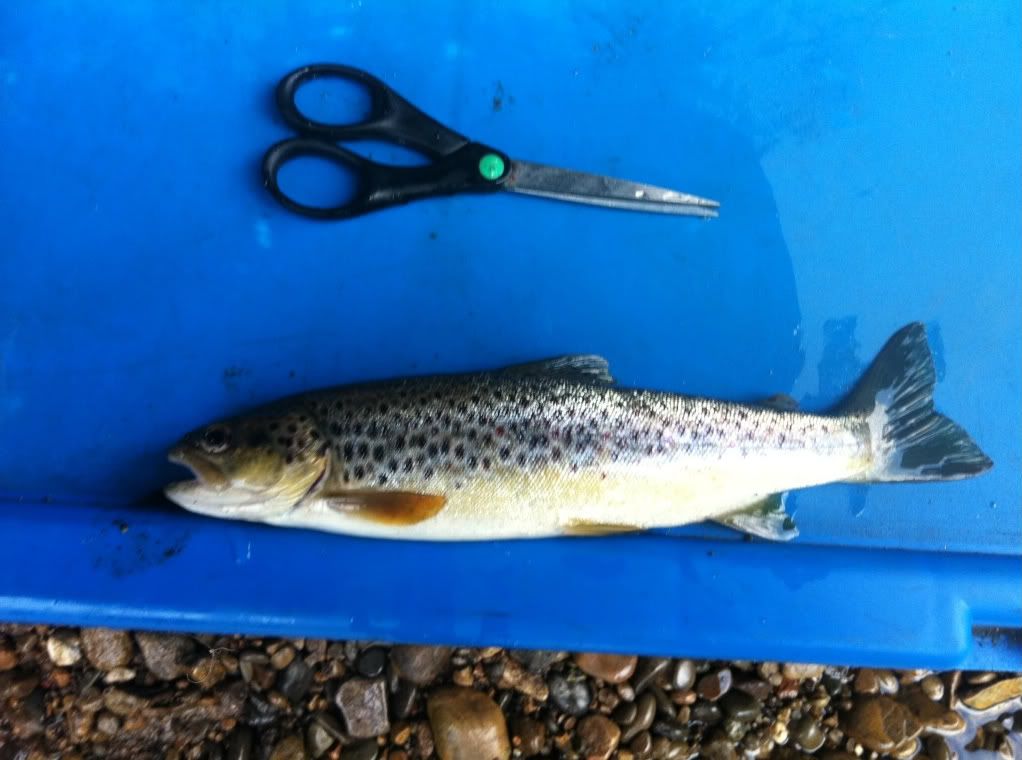 As the hemp started to work its magic a few dace started to show up as did a few salmon par. But the day was unfortunately cut short around 9am when I began to feel really ill to the point where I had to call it a day, very unusual for me as I usually have to be dragged away from the river. Had we stayed we would have had a really good day as the fish where still darting across the pool as we left, still for a few hours fishing the net below provided some great sport on the centre pin.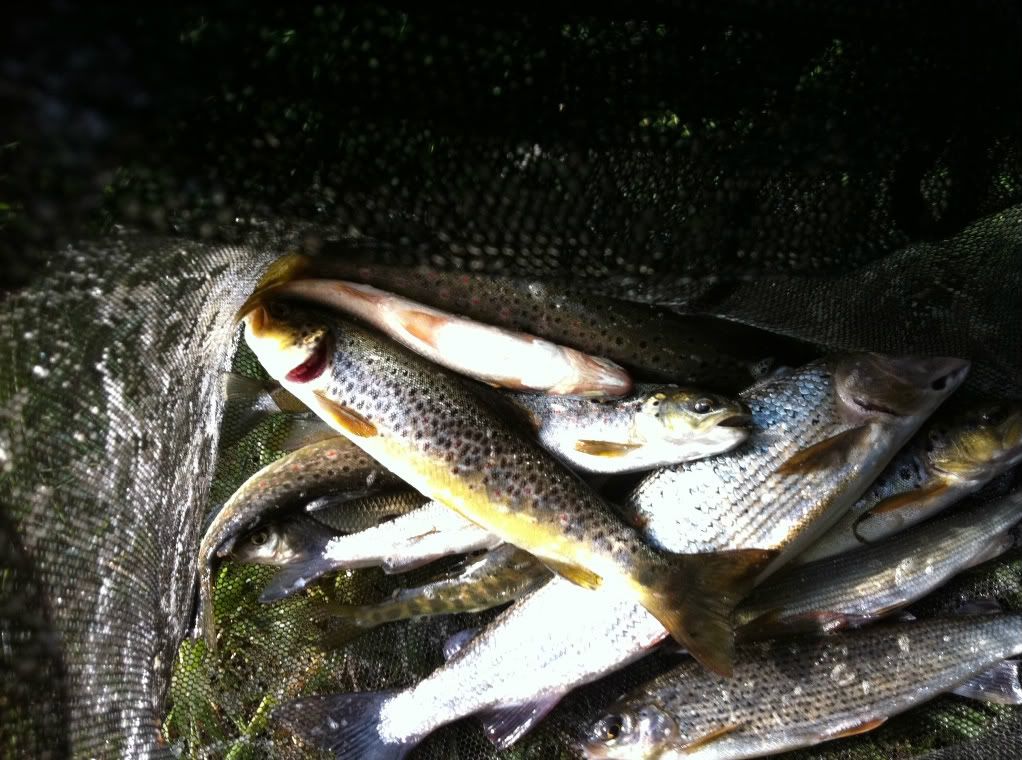 As we were heading back towards the car we were watched the whole way down the country lane by some really young cows who's curiosity got the best of them and they really do make me laugh with the way the look at you almost to say "hey up what's going on here, better make sure we see this rabble off".
Sunday saw both me and my uncle on the banks of the river Dee trotting for silvers and I must say since fishing with him my trotting technique and baiting has really come along from what it was and although today neither of us emptied the river for a good hour I had the fish where I wanted them and I was getting a bite a cast over my bed of hemp, nothing that would break any records but when trotting maggot the challenge is more a case of quantity and not quality.
Today's swim and I was amazed no chub turned up today with such a lovely trot down to a overhanging tree:
None of the fish caught really warranted a picture taken but I did manage to get my camera out to capture a very large group of noisy Canada geese (i think lol) moving down river.
very noisy rabble!!
Today I spent the morning trotting and practising getting my line and feeding right and I was really happy with my net of fish come the end of our session, I had really worked hard for every bite today and I can feel me getting more confident with each session I spend trotting on the Dee and hopefully as time passes the bags will increase but if not, as always when out with my dad and uncle you can guarantee a good laugh and that's what its all about.
Today's bag or roach and dace: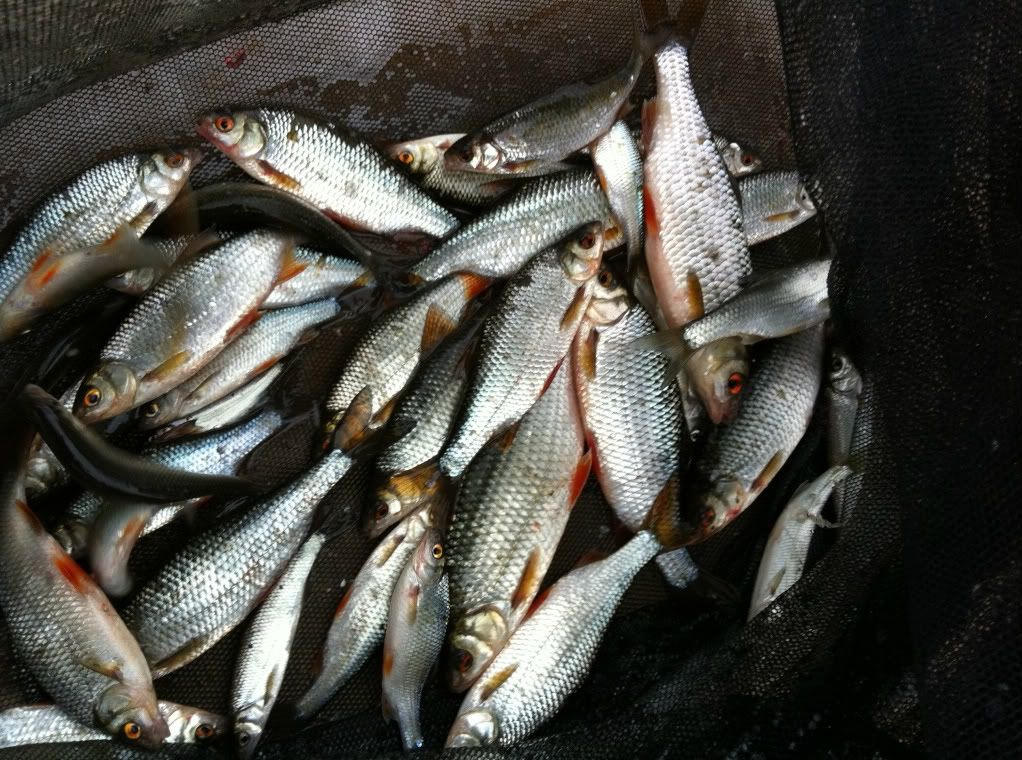 As with all our fishing on Sundays, with work on Monday in mind we called it a day around noon and a good call it was as no sooner had be got in the car the heavens opened.
Until next week
tight lines
Danny