With less than a week to go till the rivers open I had contemplated using this weeks introduction to the blog entry to show off some of last years pictures from the rivers and wet your appetites for the following week but I watched a video this week on YouTube, highlighted to my by another angling blogger called mark (link to his blog: www.fishing-for-memories.blogspot.com ) that really upset and annoyed me at the same time, this is the video:
This is the second river this close season that I have read about being polluted with another local river being polluted recently as well. Accidents do happen from time to time but accidents to the extent they cause the damage above is unacceptable and the companies should be heavily fined but like all us anglers know the fines that come from this are nothing to some of the companies involved and the punishment certainly doesn't match the crime!! anyway rant over and lets get onto this weeks fishing.
Saturday saw both me and my dad take the plunge into the world of commercial fishing after looking on the Internet at a few local fisheries in our area we decided that Greenwood Fisheries would be more our type of fishing with it looking like a more natural lake. Our first lesson came as soon as we pulled up dead on 6am to find most people already fishing or setting up, feeling like a amateur in asking how you go about paying we found that they come around later on for you to pay hence them all getting there early!! lesson number one noted get there earlier!!!.
After a quick look around the lake we settled on a nice secluded corner where we could both could command alot of water and try and draw the fish into us. A quick plum of the depth showed it was really deep right in the side at around 6ft and we later found it was around 17ft in the middle.
The Peg: (my dads was the one to the left on the video)
I set up my margin pole to fish directly in front of me at around 5-6 metres using corn and maggot with some Bait tech marine halibut ground bait while my dad used the float rod with a Polaris float and a maggot feeder as the weight on the bottom I had also bought myself some Sonubaits 6mm pellets on Friday to use on a bait band.
After a few pots of bait going in I started to get a few tell tale bubbles around the float and the float buried and I was into my first fish form a commercial fishery, a nice skimmer bream:
First fish from a commercial:
I kept the bait going in and caught another 6 or 7 more skimmers while my dad also started to get some fish as well with more of the same stamp of skimmers falling to his maggot feeder tactics. I was catching very well on corn but I did notice I had to put a fair bit of bait in to get the fish feeding in my area and it wasn't long before I had gone through half a small tin of corn, this wasn't a problem as I had a few tins but it did get me thinking how much bait you could go through had I had a swim full of carp to keep in my area. I kept the bait going in and steadily caught more skimmers as did all the anglers round me, it seemed all where catching the same stamp skimmers with the odd small carp. From my peg's point of view the bites died completely around 11am but my dad was still getting the odd skimmer bream and then he hit something that pulled back a bit more I went round to investigate and a nice chub was in the net, his first from a still water.
Welcome Chub:
Not long after this fish the heavens which saw me sat under our big umbrella on my dads peg watching his Polaris float and praying it didn't go under, which it didn't till the rain started really coming down hard when on queue the float disappeared, I grabbed the rod and started playing the fish that from the off I knew wasn't a skimmer but wasn't massive either and after a short fight a lovely small perfectly scaled carp was on the bank.
As you can see in the background the rain was coming down hard:
Once the rain went off the place came alive with bubbles and fish topping all over, I went back onto the pole with little success while the peg next to me was bagging up on skimmers on the method feeder, not one to be backward in coming forward I quickly set up my feeder rod. A few weeks back I bought a mould for my Preston method feeder but due to using my pole in the past few weeks I was yet to get to use it and I must admit I was really impressed with the results!!.
I decided to use only ground bait in the feeder and a banded pellet on the hook leaving the feeder to settle on the bottom for only 30 seconds before recasting again to try and build up a bed of bait and it wasn't long before the tell tale signs of fish feeding over my baited spot started appearing with bubbles on the surface and line bites showing on the tip but eventually the tip pulled round and I was into a fish.
The tip wrapping round:
With a better stamp of bream coming to the net: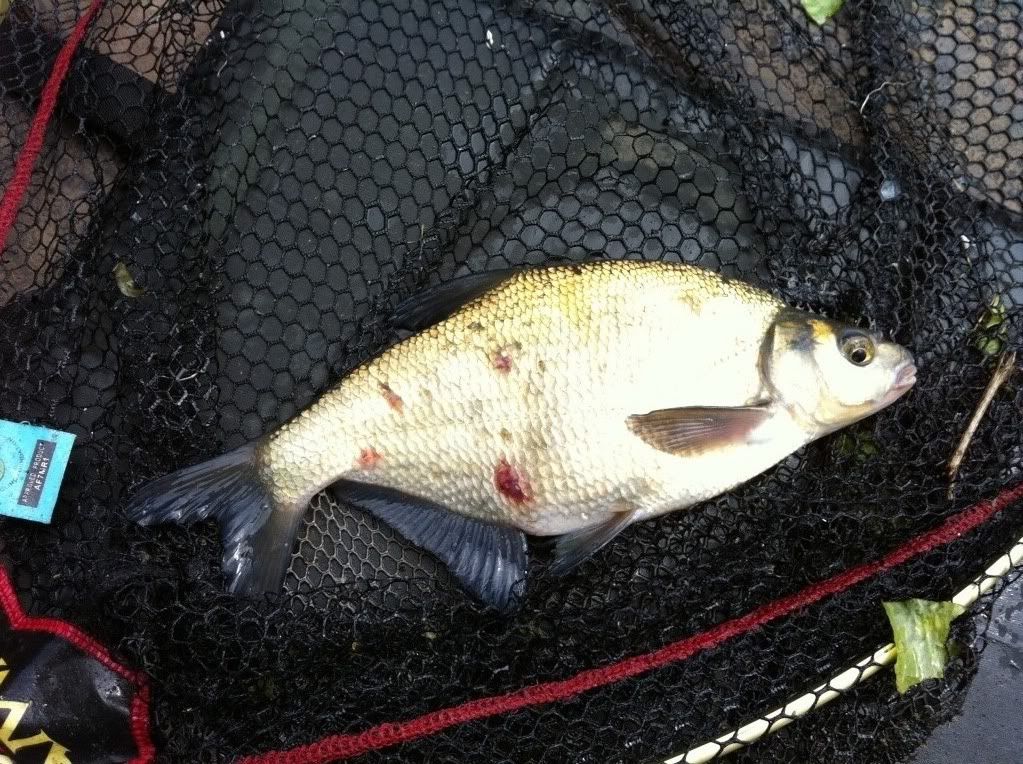 Cast in again and near enough straight away the tip shot round and I was into another slimy customer.
These bites continued until we left around 4pm with the skimmers and small bream coming in fits and starts, catching two or three on the bounce then having to put in a few quick casts with the feeder to get them going again. The bream all had nodules on their head and where very badly marked from recently spawning so hopefully the carp in there should be on the feed soon.
Nodules on head:
As we were leaving I got speaking to a few anglers from the other part of the lake who said that skimmers were all that was seen to be caught all over with only one angler reporting he caught a carp at around 4-5 pound, by the way they were topping in the middle it looked like they had only recently spawned themselves and where jumping out to clean themselves of spawn. All in all it was nowhere as daunting as I had thought it was going to be and I am sure will see us visiting this place and other places more. Things I will take from it are to take a bigger bait alternative as I am sure it was down to only having 6mm pellets why I caught bream but didn't get into any carp and also next time I visit I will be putting down a bed of bait before I cast in to get the fish into my area and possibly attract some of those carp all in all a very enjoyable day!!
I have set up a channel on YouTube to post the videos on so they can be viewed on a bigger screen the link will be in the top right corner of the blog.
till next time good luck to everyone going out on the rivers this week.
Tight Lines