A warm welcome to the first blog update of 2013 I hope this update finds you all well and healthy having had a great festive period. The blog took a break over Christmas and I think it may well develop into an annual thing, there is very rarely any fishing done over this period to blog about and this year spending every minute with my family was just the best feeling ever and as all the people who follow this blog who write blogs themselves, it isn't half good to have a break from it and recharge those blogging batteries.
As I mentioned above I didn't really get out to wet a line over the festive period and with the rivers all filled to bursting point I had very little enthusiasm to drag myself off to a local still water as we moved into 2013 and it wasn't until the weekend that the big finally bit and we loaded the gear and made our way to the bank, our destination was Flushing Meadows Fishery. To make things interesting I used bait I had never used on this venue and all will be revealed later on in the blog.
That session out of the way I made my way into work on Monday and all I could think about was the river, she was thinning off nicely and was just approaching a fishable level, a day's annual leave during the week was on my to do list as a priority. Work came through and I managed to wangle Wednesday off, floating on air in a world of my own I drifted to the bait shop for my bait, two trips out in a week!! It has been a while to say the least.
On to the fishing:
Saturday 5th January 2013 – FLUSHING MEADOWS FISHERY, ACTON BRIDGE
Flushing meadows or "flushing" as we call it for short is a venue that we visit quite a lot since we found it a few years ago; it offers some great fishing for both silvers and carp but for someone who fishes mainly naturally stocked waters it is very easy, to the point it can get boring to catch!! That might sound mad to some people but when you are pulling in quality roach after quality roach they hold very little sense of achievement as opposed to catching just one of these fish on say a canal or pond where it would be the fish that made the session for you and you would be more than made up. in short I think you have to take these unnaturally stocked places as exactly that, you will learn very little about "real" fishing for example how to feed a swim correctly and how much to feed but it is a great place to guarantee a few bites and also have a bit of fun experimenting with different techniques and baits and that's what I had in mind on Saturday, a bit of fun using a different bait.
As you can see from the picture bread was the chosen bait, cheap and cheerful and if this bait worked well would it would save me a decent amount of money come summer time and since our new arrival in the family I am all about saving money and when a session costs you the price of a loaf of bread its always going to gain you favour with the missus when you want to get out to wet a line. With my bread head on I was in my element in the kitchen blitzing up slice after slice into a commercial sized bag of bread crumb, the only thing left to do was to prepare the hook bait slices the following morning before I left for the bank.
Arriving on the bank not long after the farmers key had left the lock we decided to settle on Pool 5, the canal pool, my plan of attack was to fish bread tight against the far marginal shelf where I hoped to catch anything that came into the peg with a view of slowly building up the peg and catching a carp or two later on in the session. The bites came thick and fast with rudd being the first fish to find the bait and their presence in the number one spot for first 2013 fish was of little surprise to me as they are the main silver fish staple in this pool.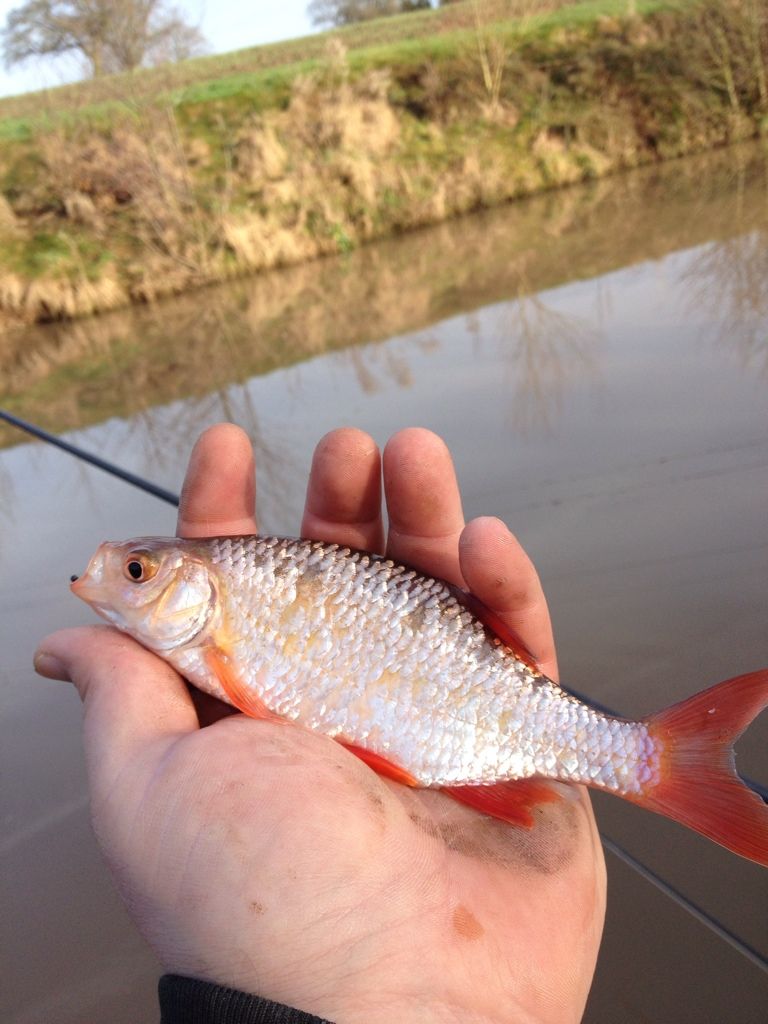 As time passed the fish increased in size with some really nice rudd coming and eventually the bream moved in, small skimmers at first and then the decent skimmers moved into the swim and I began putting together a nice weight of fish.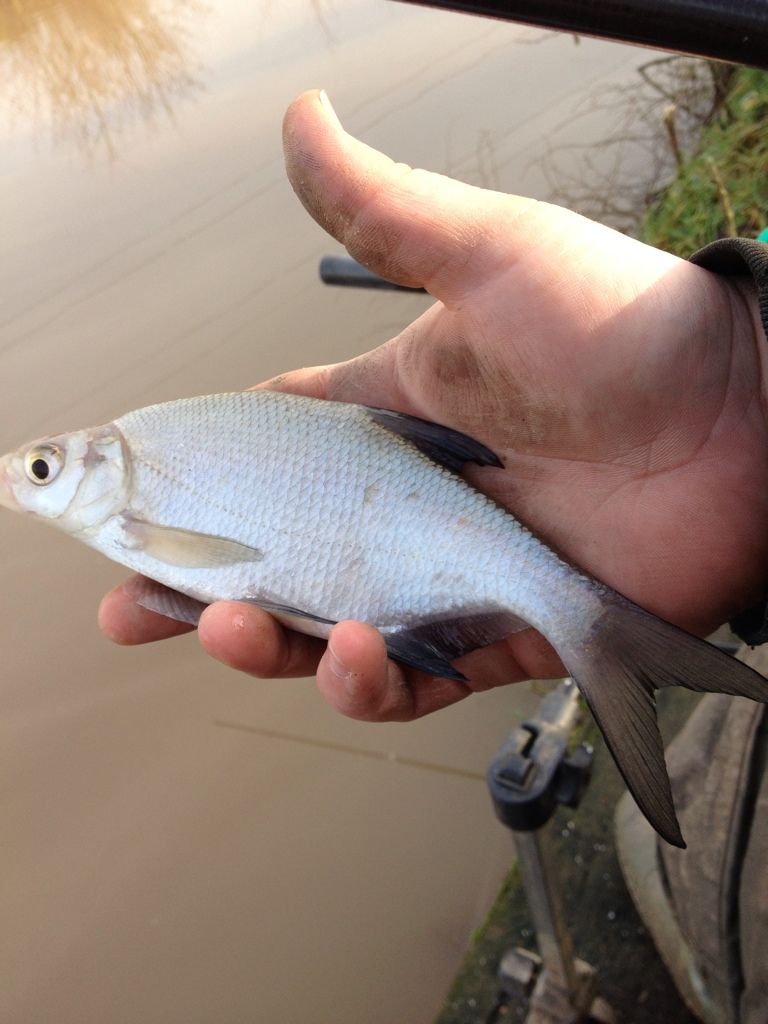 Around 11am the farmer came round for the peg fee and we had a decent chat, we knew from a past visit that the EA were due in around Christmas to thin out the small silvers in this pool, we were shocked when he said that they had taken 8000 rudd and skimmer fry, I knew these pools held some fish but 8000 first and second year fry ad the skimmers, carp and rudd over fry size to that it boggles the mind just how many fish this place could hold. The farmer also told us the pool had not been fishing too well for the carp and said if we wanted to move to another pool then we could. We decided to take him up on his offer and moved onto the easy access pool, purely as it was the closest to the car so we could be out and fishing really quick.
As we packed away a pair of buzzards broke the serenity of the day passing bye as they called back and forth to each other, these birds are fast becoming my favourite species and you see so many of them on our travels now.
Moving onto the easy access pool meant there was a good chance of picking up some really nice roach but that came with the sacrifice that we knew if we did hit any carp they would not be in the calibre of the ones in the other pool. My plan was the same tactic as on the canal pool but I fished it down the edge to a marginal grassy outcrop. In went a decent ball of crumb and over the top I went with my largest diameter bread punch, it didn't take long for a bite to develop and when it did it was a fin perfect roach that graced my landing net.
I continued to pick up some nice condition roach but in my head I was waiting for that magical time from 2pm onwards that would see the better fish start to move about and with the un-seasonally warm conditions I knew it could be any of the species that call this place home.
The 2pm March began in earnest with this nice skimmer bream, it is funny on flushing as you can tell there is a decent fish about as you have to wait a while for a bite but my patience was rewarded with this fish.
The last two hours of the session saw the swim produce some better fish with the odd better roach and eventually the carp and tench also got in on the act.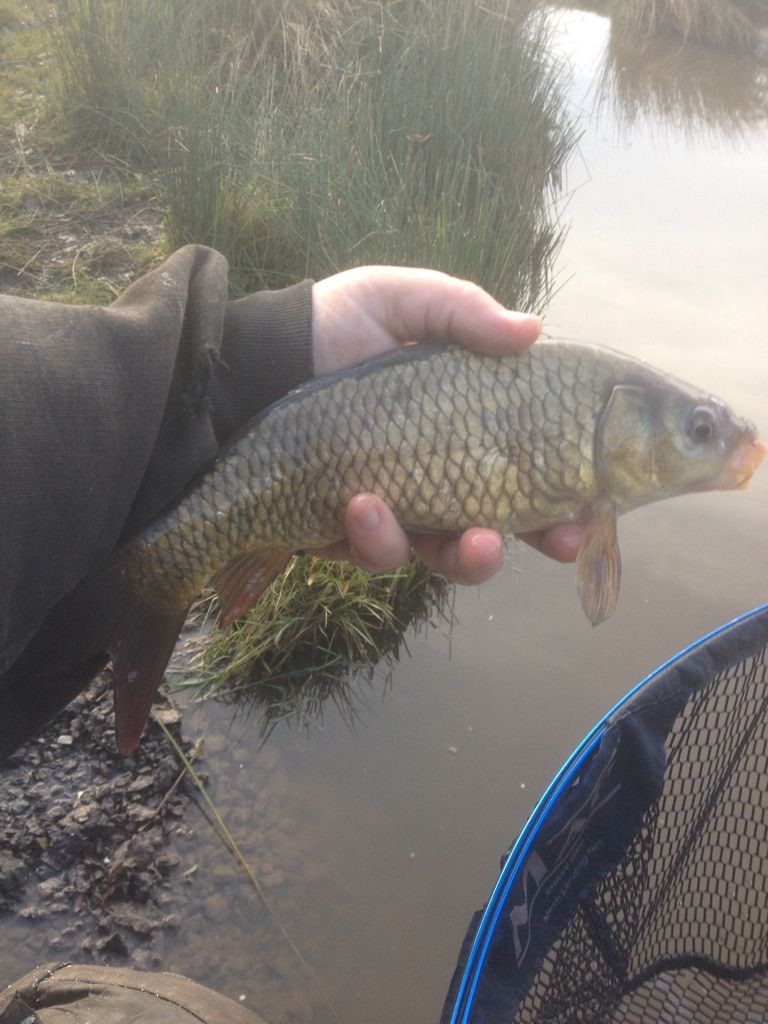 At very last knocking the best fish of the session made an appearance when this pristine roach took a liking to my float fished bread.
I learned quite a bit from this session in regards to bread fishing this commercial in that come summer I think I may have to take a lot more crumb and feed a lot heavier to stand any chance of getting to the better carp and this session also showed me that if I want a relatively cheap days fishing which is guaranteed and local then this place is a viable option.
Wednesday 09th January - RIVER DEE
The River Dee has been out of her banks more than she has been in them for the past few week's, any drop in the level was soon replenished by another front or rain and put a nail firmly into the coffin of any trips to the river for all except the barbel anglers amongst us, who had been spoilt of late with the mixture of flooded rivers and high temperatures.
Monday morning and as I trudged into work, heavy with the woes that come with a Monday morning, my feet were like lead and my hands demanded the snug warmth of my hoodie pocket, Friday seems so far away at these points and just to add insult to injury I thought I might as well see how the river is looking. I wiped the sleep from my eyes as to take a double glance at what I was seeing, a river at 6.5m and dropping and dropping like a brick through a greenhouse.
There was a sudden spring in my step, a warm glow inside that felt like an old friend had returned, I just had to get on the bank to wet a line. My head fizzled with ideas on where I could wet a line, past trips to the river played through my mind in full high definition, it was settled both in my mind and with the powers that be that Wednesday would be the date that marked my reunion with the glorious, majestic River Dee.
Needless to say Monday and Tuesday seemed to go by at a snails pace and that was also reflected in how fast my work pile was depleting as I dropped into day dream after day dream, of course each time the float would go under directly on queue over the same spot and the reward as always was a pristine dace.
Arriving on the river I departed my car to be met with the cold crisp freshness that you only get when you are on the banks of running water, I could almost feel the stagnant layers I had built up from fishing still waters being washed away. The smells, the sound of running water and the therapeutic sound of the wildlife waking up around me I was back where I had longed to be for so long, I was home.
Climbing down the frosty peg it was clear from the prints in the mud that I wasn't the first visitor to this elevated perch and this is one aspect I am aiming to improve on this year is being able to identify which prints belong to which species, looking at these prints it would seem there were two separate animals to walk on the peg in last few hours. Anyone that can out a name to these feel free in the comments section at the end of this post or hit me up on twitter or Facebook.
Setting up with shaking hands, no not from the cold but from sheer excitement, many mistakes were made with eyes being missed threading the rod up and weights disappearing into the quagmire mud at my feet a second was needed to slow me down. I set up on the peg and began on the float rod feeding both maggot and hemp.
The water had about a foot or so of visibility and was still very coloured from the past floods it wasn't quite the chocolate milkshake colour it can be but was still far too coloured for me to have confidence in catching on the float. I persisted on the float rod for a good two hours without so much as a knock.
I had come equipped with my puddle chucker swim feeder rod after some sound advice from the blogs Facebook page and it came into its own straight away with small fish ringing the dinner bell time after time but not getting hooked. A quick change of hook size saw these rattles developing into fish on the bank. When I first started fishing the river with my dad the swim feeder approach was the method for me, since getting to grips with the float rod all that has changed to the point I cannot actually remember the last time I fished the tip on the river but it will be in the holdall this weekend that's for sure.
The dace continued to come more frequent on the feeder rod to the point where they just had to be catchable on the float so I quickly changed over to my running line and from 1pm through to 3pm I managed to keep the bites coming on both methods, catching a few on the rod and then switching over to the feeder when things got quiet. My efforts were rewarded towards the very end of the session with this superb dace a sure sign the better fish are about.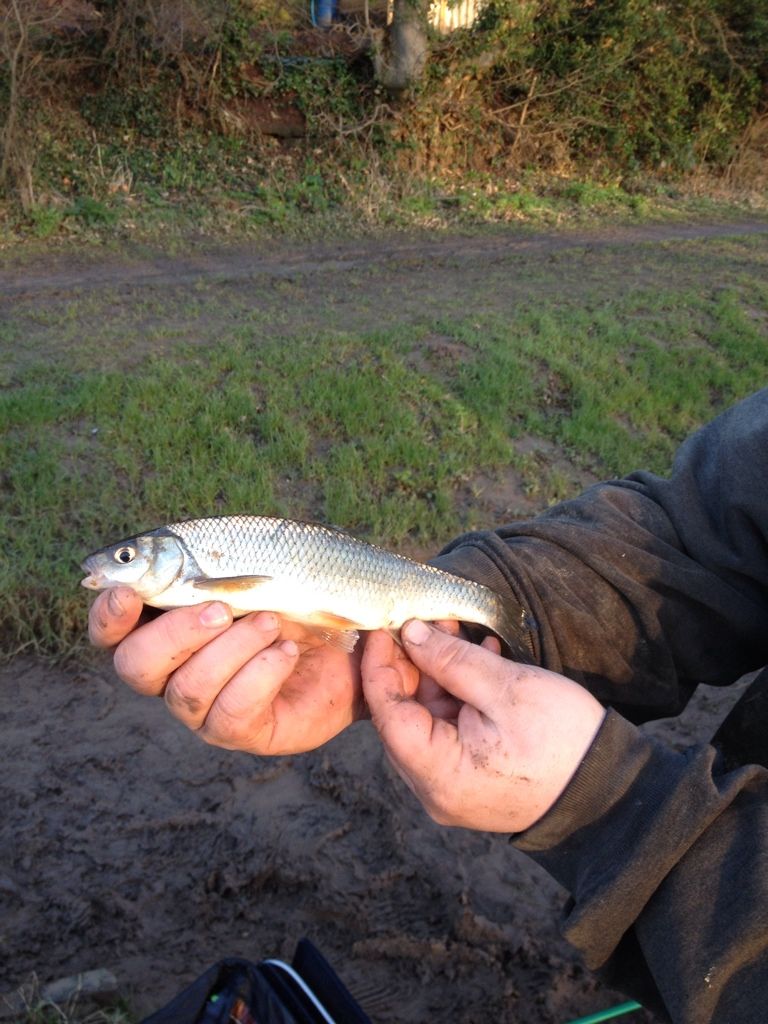 The fish never really got going like they can, sometimes you only have to trot a few feet down to your hemp to hit the fish but on the day all the fish where right on the extremities of the peg and I cannot remember getting one bite over my bed of hemp in the whole session, it is one of them though you have to feed it as it has more good days than bad when using it.
In reflection I was more than pleased with the net of fish on the day and when all was said and done I would have taken half of this net when I was struggling during the first few hours had I been given the choice. It was a great session to ease me back into the river mode and during the next few trips out I will be looking to connect with a few of the pike the river has to offer, especially if this promised cold snap hits in the next few days.
Till next time I wish you all
Tight lines
danny